Mash avocados into a creamy miso ramen á la Mr. Taka Ramen
BY ELYSE INAMINE 1/6/16
We're going clean in 2016—and not only because it rhymes. Recharge and renew yourself with our favorite healthy recipes.
 Takatoshi Nagara really likes burgers. His favorite spot in New York City is Shake Shack—"That was the best," he says happily—and he once flipped patties at a Hawaiian-style burger shop in Japan (mhm, you read that right).
But burgers are just a mere infatuation. Not a passion. Not ramen.
 For the chef at Tokyo's Bigiya, one of the first Michelin-approved ramen-yas in last year's Bib Gourmand guide, and the newly opened, rightfully packed Mr. Taka Ramen in New York City's Lower East Side, ramen is an obsession, one fortified with shiro miso, avocado and Japanese soy milk (see the recipe).
 "In college, he always traveled from Okinawa to Hokkaido," Takayuki Watanabe says from his wooden stool beside Nagara. "He even went to China to find the original ramen."
 Watanabe is Nagara's old college pal and the other half of Mr. Taka Ramen. ("My name is Takatoshi; his name is Takayuki," Nagara explains, "so both of us are called Taka, and that's why our restaurant is called Mr. Taka.") Watanabe is a former fashion journalist who traded runway shows to spread the gospel of loud slurping, noodles and the cuisine of his homeland.
 Small pots filled with two types of pork bones roil in the corner while the Takas run up and down a little ladder that leads to their office. Lines for dinner start promptly an hour before Mr. Taka Ramen opens as the two are inside doling out family meal.
 Though Nagara is known for his Tokyo-style shoyu ramen, which he has thankfully transferred from Bigiya to Mr. Taka Ramen, the man isn't tethered to any style.
 "I tried every kind, miso, tonkotsu. Each city [in Japan] has its own culture of ramen," Nagara says.
 "If you go to Hokkaido, you can taste miso ramen, and in Tokyo, we have shoyu ramen and Fukuoka tonkotsu," Watanabe continues.
 But, clearly, Nagara is cultivating his own style with this strange but satisfying ramen. Buttery avocado is mashed up with Japanese soy milk, sweeter and earthier than the American variety, and a lump of miso for a funky broth that's more savory horchata than fishy, salty shoyu ramen.
 Swirled with noodles and layered with crispy tofu, sautéed bell peppers and an artful twist of lemon, it's a ramen that commands zero talking and more slurping. Best part is, you won't feel terrible after wolfing down a big bowl.
 It's wonderfully delicious and all Taka. And you can't say that about a burger.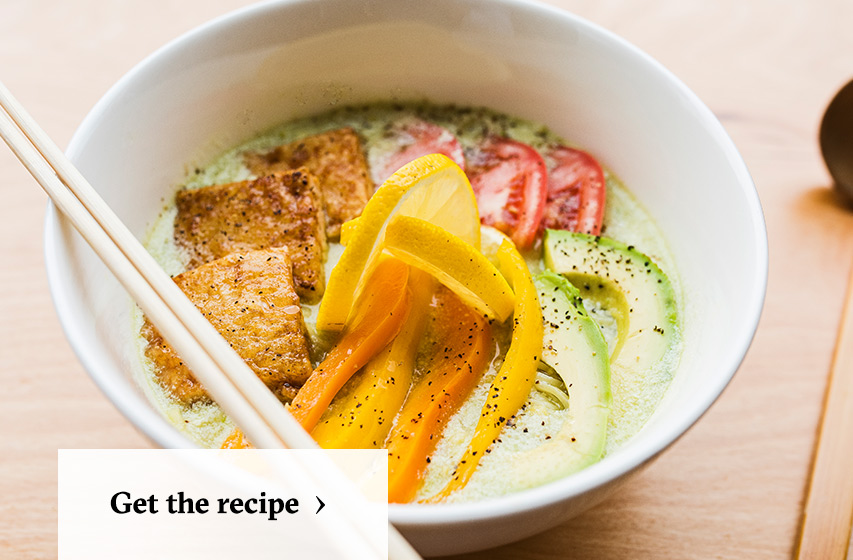 Mr. Taka Ramen's Takatoshi Nagara whips up a rich, delicious ramen that just so happens to be vegan. Delicate flavors blend into a silky sauce that thickens up quite a bit once the ramen noodles are added. A squeeze of lemon balances the creamy sauce, pulling it all together.
 Use the sauce as a base recipe and get creative with seasonal toppings. We like to add roasted sweet potato, sautéed kale and maybe even a little pork belly.
 Avocado-Miso Ramen
Recipe adapted from Takatoshi Nagara, Mr. Taka Ramen, New York, NY
Yield: 1 serving
Prep Time: 15 minutes
Cook Time: 10 minutes
Total Time: 25 minutes
INGREDIENTS
½ cup mashed, plus 4 slices, avocado (1 large avocado)
1 teaspoon lemon juice, plus more to taste
¾ cup water
⅓ cup unsweetened soy milk
2 tablespoons white miso
Kosher salt, to taste
2 teaspoons canola oil
3 square slices firm tofu, blotted dry with a paper towel
2 tablespoons cornstarch
1½ teaspoons shoyu (or soy sauce)
4 thin orange bell pepper strips (from ¼ bell pepper)
One 5-ounce package fresh or 3-ounce package dried ramen noodles
3 tomato slices
1 lemon wedge
Pinch black pepper
DIRECTIONS
1. Bring a medium pot of water to a boil.
2. Meanwhile, in a small bowl, combine the mashed avocado with the lemon juice until smooth and set aside.
3. In a small saucepan, combine the water, soy milk and miso, and bring to a simmer, 3 minutes. Reduce the heat to low, stir in the mashed avocado and cook, whisking occasionally, until a creamy sauce forms, 2 minutes. Adjust the seasoning to taste with salt and lemon juice, and remove from the heat. Makes about 1¼ cups sauce.
4. In a small nonstick sauté pan, heat the oil over medium-high heat. Place the tofu slices in a shallow bowl and sprinkle with the cornstarch, turning the tofu to coat. Add the tofu to the hot oil and cook until golden brown, occasionally shaking the pan to prevent sticking and turning the tofu to cook both sides, 2 to 3 minutes. Remove from the heat and add the soy sauce, flipping the tofu once to brown both sides, and remove from the heat. Transfer to a small plate and set aside.
5. Return the nonstick sauté pan to medium-high heat and add the bell pepper strips. Season with a pinch of salt and cook 1 minute, flipping the strips once. Remove from the heat and add to the plate of tofu.
6. Cook the ramen noodles in the boiling water according to package directions.
7. While the ramen is cooking, reheat the avocado-miso broth and ladle into a bowl. Add the cooked ramen noodles to the broth and, using large chopsticks or a pair of tongs, fold the noodles 2 to 3 times in the broth to coat. (The sauce will thicken as the noodles are tossed.)
8. Garnish the ramen with the tofu, bell pepper, sliced avocado, tomato and lemon wedges. Sprinkle with the black pepper and serve.
Categories: None